Acrylic Coated Fiberglass Sleeving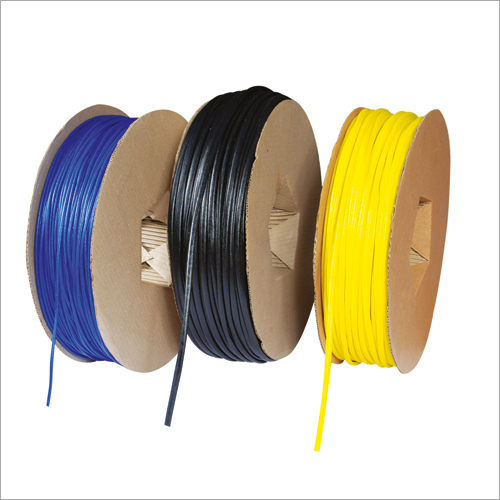 Acrylic Coated Fiberglass Sleeving
Product Description
Owing to our rich industrial experience, we have been a respected manufacturer of Acrylic Coated Fiberglass Sleeving in the market. It is precisely engineered sleeving with high dielectric strength capabilities. Acrylic Coated Fiberglass Sleeving is available in numerous grades with varying dielectric strength upto 7000 volts as per applications, consisting an inner wall layer made out of fiberglass yarn which is braided and coated with acrylic resin.
Parameters

Details

Thermal Class

F Class

Thermal Temperature

-30 C to +155 C

Sizes

0.5mm to 40.0mm

Color

Available in different colors on request

Grade & Dielectric Strength

A Above 7000 Volts
B 4000 Volts
C 2500 Volts
C1 1500 Volts

Length

Continuous or Customized cut lengths
available on request.
TECHNICAL CHARACTERISTICS
S.No

Property

Test

Result

1

Heat Resistance

Bending after heating IEC 60684 part
2 Clause 13,48hrs at +155C

No Cracking or detachment of coating shall
be visible and the original colors shall be
clearly recognized.

1.a

UL 1441 60days at +190C

Dielectric Strength after ageing : average
break down voltage 5000Volts

2

Flammability

Flame Propagation :
IEC 60684 part 2 Clause 26
Method A
Vertical with Mandrel

Self Extinguish (within 60 Sec.)

2.a

UL 1441 60days at +190C

Passes

3

Cold Resistance

Bending at Low temperature
IEC 60684 part 2 clause 14 at -70C

No Cracking or detachment of coating shall
be visible

3.a

UL 1441 -1Hr at -10C

No Cracking

4

Chemical Resistance

Simulation of real operating
conditions

Compatible with most insulating varnishes.

6

Insulation
Resistance

At room Temp. as per IEC 60684

Min. 103 M
DIMENSIONS as per IEC 60684
Part No

Nominal Bore
(AWG)

Nominal Bore
(mm)

Bore Tolerance
(mm)

Minimum Wall
Thickness (mm))

Standard
Packing (Mtrs)

1 AG701

AWG # 18

1

0.20

0.25

100

2 AG701

AWG # 12

2

0.20

0.25

100

3 AG701

AWG # 09

3

0.40

0.35

100

4 AG701

AWG # 06

4

0.40

0.5

100

5 AG701

AWG # 04

5

0.50

0.5

100

6 AG701

AWG # 03

6

0.50

0.5

100

7 AG701

AWG # 01

7

0.50

0.5

100

8 AG701

AWG # 00

8

0.50

0.5

100

9 AG701

AWG # 1/0

9

0.50

0.5

100

10 AG701

AWG # 2/0

10

0.50

0.65

100

12 AG701

AWG # 3/0

12

0.50

0.65

50

14 AG701

AWG # 250

14

0.50

0.65

50

16 AG701

AWG # 300

16

1.00

0.65

50

18 AG701

AWG # 400

18

1.00

0.65

50

20 AG701

AWG # 500

20

1.00

0.65

50

22 AG701

AWG # 600

22

1.00

0.65

25

25 AG701

AWG # 750

25

1.00

0.65

25
Trade Information
300-100000 Per Day

8 -30 Days
Contact Us
B No. 40, Naubad Industrial Area, Naubad, Bidar, Karnataka, 585403, India
Phone :+918035948112